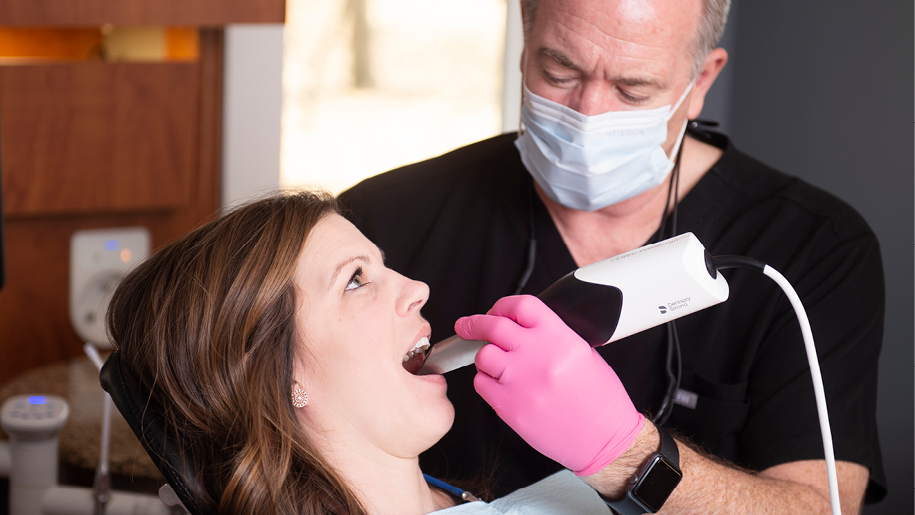 We use the latest dental
technology to improve your experience in the dentist's chair.
Request a Free Video Consult
Get your question answered in 3 easy steps
CEREC® Digital Impression Unit
We use a slim camera wand to take digital dental impressions of your teeth. Not only is
CEREC
 Digital Impressions noninvasive, meaning it doesn't trigger your gag reflex (no more goop!), but it also takes precise impressions so we can create same-day dental crowns that look and feel like your natural teeth.
CEREC Milling Units
Our same-day dentists use our CEREC technology to create and place your tooth crown in one appointment, eliminating the need for a temporary crown and second appointment. We use a milling unit right in our office that cuts through a block of ceramic or other tooth-colored material to create your same-day crown.
SIDEXIS 4
We use SIDEXIS 4 Software as a central place to access your dental x-rays, digital impressions, and other types of diagnostic images. We can show you images of your teeth, gums, and jaw on one screen so you can see what we see happening inside your mouth and understand your diagnosis and treatment options.
GALILEOS Comfort

Plus

3D Dental Imaging
Cone Beam Computed Tomography (CBCT) allows your dentist to see your teeth, gums, and jaws with more clarity than traditional film x-rays. The focused x-ray beam of our GALILEOS ComfortPlus 3D dental imaging unit reduces scatter radiation, resulting in better image quality and a lower dose of radiation.
3D Printing
Our dentists use 3D printing to create oral appliances and surgical guides for implant placement. 3D printing is convenient because you don't have to wait weeks for your appliance to be made in an off-site lab.
CamX® Elara
We use the CamX Elara intraoral camera to take pictures of your smile. This intraoral camera is noninvasive and helps our dentists track your treatment over time.
CamX Spectra
We use the CamX Spectra Caries Detection Aid to find early signs of tooth decay, including plaque and tartar buildup. It can detect cavities that we might have missed with an x-ray, including cavities around fillings and crowns. When it spots decay, the cavity glows on our screen as a different color from the rest of your tooth.
To schedule your appointment with one of our Jenison family dentists, CONTACT US or CALL McMahon Family Dental directly at 616.457.2710.