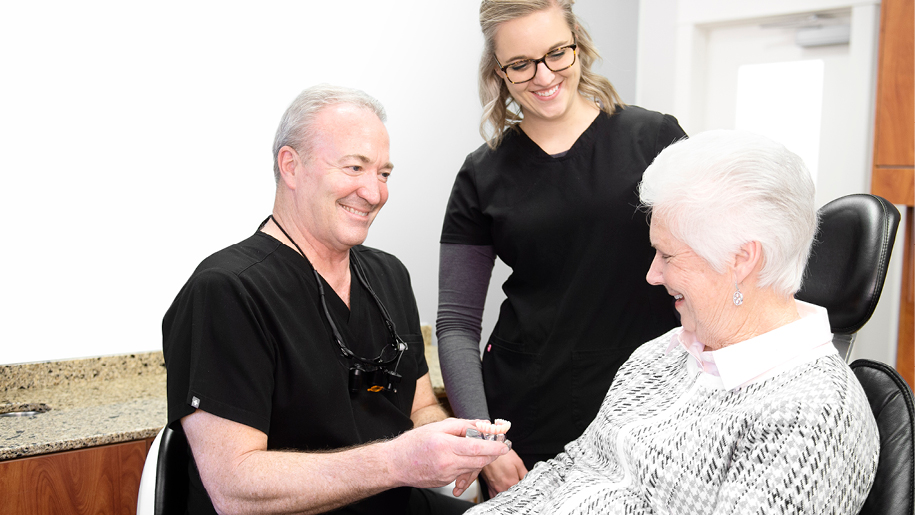 Returning Your Smile for a Healthier, Happier You
As a restorative dentist, we go above and beyond to replace damaged or missing teeth. From fillings to crowns, bridges to implants, and more, we can restore your natural smile to make your mouth look, feel, and function better.
Request a Free Video Consult
Get your question answered in 3 easy steps
CEREC® Same-Day Dental Crowns
A dental crown is a tooth shaped porcelain ceramic cap used to repair, strengthen, and improve your natural tooth. To deliver prompt, high-quality restorations, we use CEREC technology to create your dental crown in one day, eliminating the need for a temporary crown and a second appointment.
As a result, your teeth will be healthier, stronger, and more beautiful, all while looking natural. The restoration is metal-free, and the high-grade ceramic material is compatible with the natural tissue found in your mouth.
Implants
If you have lost a tooth or two due to injury or disease, dental implants can rejuvenate both your smile and your overall oral health.
A dental implant is a synthetic tooth root in the shape of a post that we surgically place into your jawbone. A replacement tooth is then fixed to the post. Dental implants are permanent and look, feel and function like natural teeth.
Bridges
A bridge may be used to replace missing teeth, help maintain the shape of your face, and alleviate stress on your bite. 
A bridge replaces missing teeth with artificial teeth and literally bridges the gap where one or more teeth may have previously been. The success of any bridge depends on its foundation–the other teeth, gums, or bone to which it is attached. Therefore, it is very important to keep your existing teeth, gums, and jaw healthy and strong.
Composite Fillings
Composite fillings are used to repair a damaged tooth due to cavities, breakage, or root exposure.
Our composite fillings include ceramic and new resin compounds that mimic the appearance of your natural tooth enamel so the filling blends in with the rest of your teeth. These new bonded materials allow us to save as much of your healthy tooth structure as possible during a filling.
Extractions
When it comes to oral care, there are times when it's necessary to remove a tooth completely. Our dentists can help (or we may refer you to a specialist). Once the tooth is removed and the site has been healed, we may recommend a replacement with an implant or bridge.
Partials and Full Dentures
When your natural teeth are no longer functional, and as an alternative to implants, you may need either a partial denture or full denture to replace them. Partials and full dentures come in removable and implant-supported versions, depending on your preferences.
Full-Arch Restoration
If you are missing many of your teeth or have extensive damage, you may be a candidate for full arch restoration. 
Full-arch restoration is a fixed prosthetic retained in the mouth with dental implants. These replacement teeth stay in your mouth permanently and help you eat, speak and smile with confidence. 
To schedule your appointment with one of our Jenison family dentists, CONTACT US or CALL McMahon Family Dental directly at 616.457.2710.